The Church of the Ascension
The growth of The Church of the Ascension paralleled the growth of the City of Bradford. In the 1860's there were approximately 300 inhabitants of Bradford. Due primarily to the oil boom, that number grew in 1875-1881 to over 10,000, bringing in many Episcopalians. The first recorded Episcopal services were held in 1868 with The Rev. Hutchinson from Toronto, Canada officiating. The services were held in various locations throughout the city. In 1878 the members of the church pledged personally and financially to support a new Church and Rector. In 1880 a fine Church became available for sale in Rouseville, PA. Our parish bought the structure for $500.00, dismantled it, transported it by wagons and rebuilt it at our current location. On May 26, 1880 we received our charter, which was recorded at the McKean County Courthouse the next day. We were admitted into the Diocese of Pittsburgh on June 9,1880 and then in 1910 into the Diocese of Erie (now known as the Diocese of Northwestern Pennsylvania).
The Altar Guild was founded by our second priest, Rev. David B. Wilson, who was rector from 1882-1885. During his time with us, our parish was able to eliminate our debt and he helped to organize a Public lecture series. Fr Wilson suffered a "fainting spell" while delivering a sermon and died shortly thereafter.
Our third rector was Rev. S. D. Day. He arrived October 27, 1885. During his five-year tenure a beautiful Parish building for the Sunday School and other activities was built and given to the parish by A.P. Tanner as a memorial to his wife. At that time the Church School numbered 185 and had 11 teachers.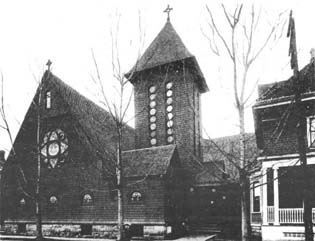 On Christmas Eve 1890 a catastrophe struck. A fire broke out, started by candles on the Altar, which had been decorated with Christmas wreathes made of ground pine. The church burned to the ground – a total loss. The Rev. W. O. Lamson had just arrived as our fourth rector during the summer months prior to the fire. The Trustees of the Presbyterian Church offered their parish for our services. After the fire Fr. Lamson spoke these memorable words: "You my congregation have lost your house of worship. I have lost all my books, papers, and everything I need to do my work, yet doubtless some good will come of the destruction." On April 23, 1891, the cornerstone of the new church was laid by Bishop Whitehead of Pittsburgh.
Between 1895 and 1909, the Rector of Ascension was Rev. Dr. Augustus R. Kieffer. He and his wife were the first occupants of the new Rectory next to the church on Chautauqua Place. Bradford was a very vibrant community at that time. The town was "riding high" due to the oil-created wealth of its families from the 1880's and 1890's. Many of the wealthy attended church at Ascension. In 1907, William R. Davis became organist and choir director, a position he held for almost 50 years. Throughout the community, it was considered the "thing to do" to sing in the Episcopal Senior and Junior Choirs. There were paid singers in the Senior Choir and a paid Boys' Choir that sang for two services every Sunday. Upon Mr. Davis' death, a scholarship fund was established in his honor by our Vestry.
Our Rector from 1912-1920 was Rev. Walter H. Overs, D.D. During his time with us, the church was covered with native brownstone. Dr. Overs was founder of St. Margaret's Guild which exists today. The family of Helen Annette Weaver donated the Meldrum Organ in 1911 and the Carrera Marble (High) Altar in 1920. Dr. Overs was succeeded by Rev. H. I. Lynds (1920-1930).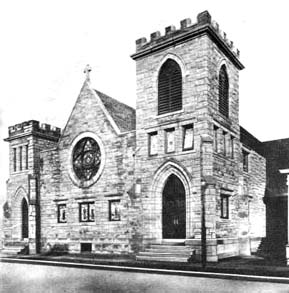 Under the leadership of Rev. Henry Sears Sizer, Jr. (1930-1943) the Church grew in many ways. The Church School more than doubled, a Men's Club was organized and Sunday Radio Hour was started. Many donations came in the 1930's. The Kieffer Memorial Fund was established in 1932 in memory of Lissa Hall Kieffer by the Daughters of the Church of the Ascension, for "permanent additions to Church Property". The Organ was replaced in 1934 by a large donation from Lewis Emery, Jr. and others. He also donated the High Altar (Ascension) window, the Rose window, the Matthew, Mark, Luke and John windows, as well as many other windows.
Renovations in the 1930's included church paneling and woodwork, as well as a balcony (for extra classrooms) and stage (for plays and concerts). A "Debt Destruction Drive" in 1935 paid off all outstanding church debts; there was enough left over to send Rev. Henry and Mrs. Sizer on a trip to the Holy Land. In 1939, Mrs. Genevieve Weaver Greene gave the smaller marble altar with built-in baptismal font located in the "Chapel of the Holy Family" in the rear of the church. Junior Guild was formed in 1932. Rev. Henry S. Sizer, Sr. succeeded his son as our next rector until 1950. At that time there were 136 pupils and teachers in the Church School.
In 1952 The Rev. and Mrs. Davis and their children were the first residents of our newly purchased Rectory at 204 Jackson Ave. The previous rectory, located next to the church, was remodeled and joined to the church, providing much needed meeting and classroom space as well as a remodeled Parish Hall as we see it today. Additional property was purchased surrounding the church, thus providing protection and lot space for parking. One property was retained for rental space.
Our 13th Rector was Rev. E. Edward Philipson. He and his family arrived in midsummer 1963. In 1965 we purchased the Schermerhorn house on the corner of Chautauqua Place and Bushnell Street. It was later demolished for additional parking. During this time we had a very active Youth Group as well as a Boy Scout Troup. Community Outreach began in 1968 providing a hot meal, games and a brief religious lesson for area children. The 60th Erie Diocesan Convention was held here in 1970. That year also saw the first two women elected to the Vestry at Ascension. In 1973, Fr. Philipson exchanged churches, for a year, with the Rev. Kenneth Bowler from Scandiace, Nottingham, England. In 1979 we received our current Prayer Book, replacing the 1928 version. A Healing Service was added to our weekly services as well as Holy Communion each Sunday instead of monthly. The Price Property on the east side of the parish was purchased in 1975, half occupied by the Assoc. Rector, the Rev. Walter Edwards and family, the other half for rentals. The Cursillo movement began and in 1980 we celebrated our 100th Anniversary.
1983 brought Rector Rev. John Kline and family. Under his direction and exceptional musical talent we reached a new level of "Rejoicing with Song." We now had a sung Eucharist, led by Fr. John with sung response by the Choir and congregation. We also began using the 1982 Hymnal. Evensong, Recital and High Tea became a reality, providing service and entertainment to Bradford. Easter Vigil became a moving service of sung ancient chants and prayers. We shared services and suppers with the Lutherans. 1996 saw "Revoicing" of the organ in honor of Rev. Robert and Marion Bromeley. EFM (Education for Ministry) gave many a new understanding of our beliefs.
In 1998, Rev. Lawrence C. Donahue came to us. Having a Freestanding Altar became a reality at Christmas 2003. We also saw new involvement with other churches and religious traditions including a Thanksgiving Service with Lutherans, Presbyterians, Jews, Muslims, and Hindus. Alpha began. Our 1st "Open Baptism" gave the world 19 "New Christians." Fr. Larry retired in December 2007.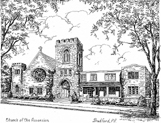 The Rev. Doctor Lynn Sinnott served as Interim Priest following Fr. Larry's retirement and helped us to discern and define our core values and ministry goals for the future through a Visioning Event and worked with our Search Team to develop a profile of the gifts and experience that our next Rector should have in order to help us move forward.
Our current Rector, the Rev. Stacey Fussell, answered God's call to Ascension and brought her family from Texas to Bradford in March 2010. Mother Stacey brings a passion for sharing the God News of God in Christ with all people and a heart for equipping and encouraging ministry to and by children and youth.
WITH PRAYER AND THE GRACE OF GOD…….THE STORY CONTINUES……..